UMBC Residential Life offers a wide variety of housing styles and options for undergraduate students.  Most students begin their experience living on campus in one of our residence hall or suite style communities. Upper-class students may apply to live in one of four apartment communities.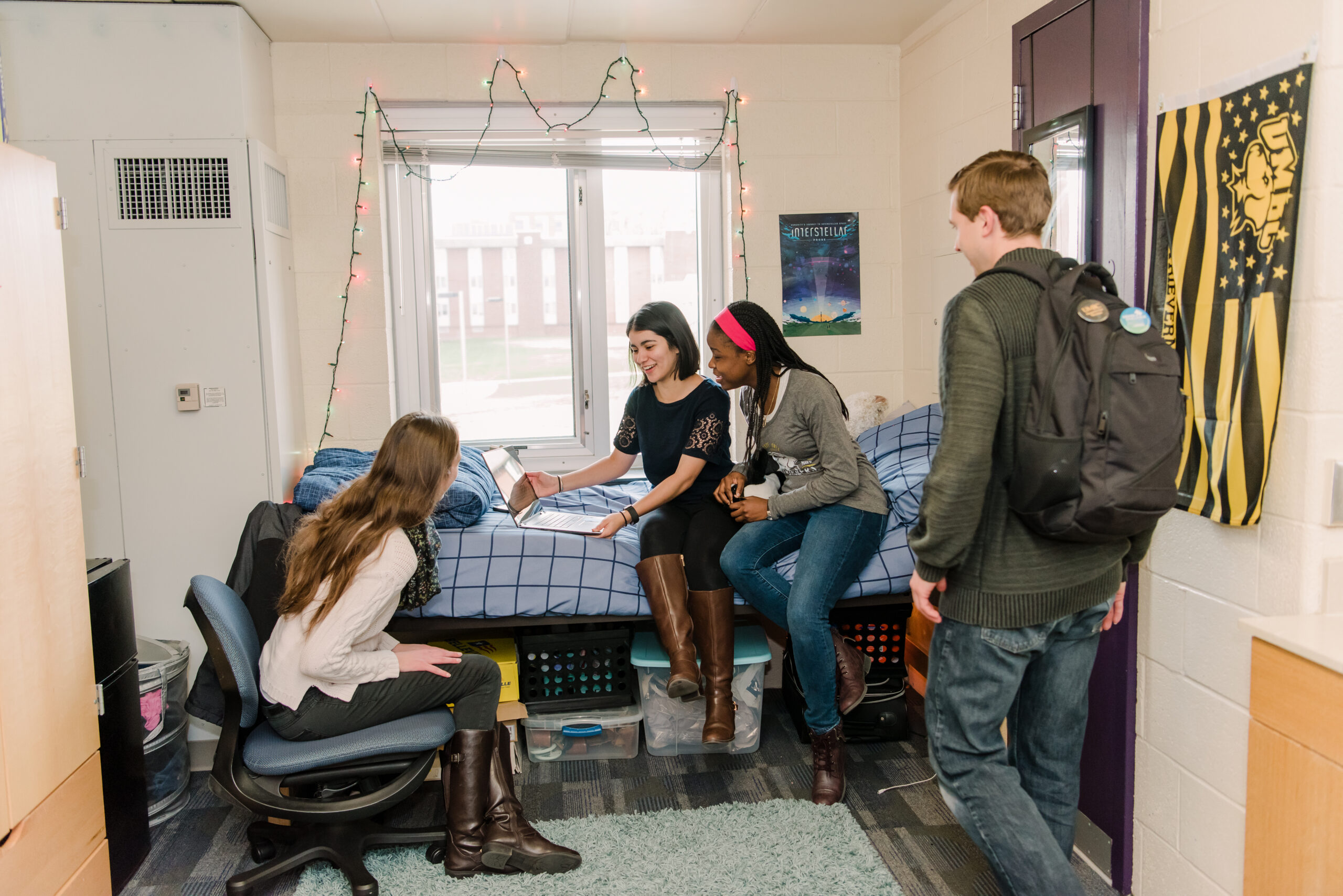 ---
Standard Amenities and Services
Regardless of where a student lives, we offer the same amenities and services in each of our communities.  Our goal is to ensure our students have safe and inviting homes at UMBC, with access to internet, streaming services, complimentary laundry, and more.
Furniture
All bedrooms include the following:

XL Twin Bed & Mattress
Desk & Desk Chair
Wardrobe or Dresser & Closet
Blinds
Shower Curtain
Carpeted Flooring

All living rooms come furnished with the following:

Sofa and/or sofa chairs, coffee table & end tables OR
Study table and chairs

All apartment kitchens include the following:

Electric stove & oven
Full-size refrigerator
Sink & cabinets
Bedloft
UMBC has contracted with BedLoft so that you may purchase a loft for your bed! Bedlofts are an affordable and convenient way to create more space in your residence hall room. The additional living space will provide a more comfortable environment and will free up space for other items, such as a futon, desk and more. To place your order for 2019-2020, visit www.bedloft.com. To guarantee availability and have your product delivered to your room by move-in day orders should be placed before August 1.
To view product details, photos, pricing, and place your order please visit www.bedloft.com.
Microfridge Rentals
Microwaves are not permitted in residential rooms. Microwaves are allowed in residential apartments only.  You may, however, rent a MicroFridge (Mircowave/Refridgerator combination) from from MyFridgeRental.  Please note that only one Microfridge unit is allowed per residential room so in many cases roommates split the cost of the rental for the academic year.
To view product details, photos and pricing please visit www.MyFridgeRental.com
Television
UMBC works with Comcast Xfinity to provide IPTV. Students can use the streaming service both on and off campus on their laptop or mobile device with a UMBC login. Students can also DVR up to 20 hours of television. In order to utilize this service directly through a  television, you must have a 2017 Samsung TV (or newer) or a Roku. You can always elect to connect your laptop or mobile device to your television via HDMI or a mirroring service. To start streaming visit https://www.xfinityoncampus.com, select UMBC, and log in.
Internet
Internet access is available in each resident's room or apartment; one high-speed internet jack per student is included. Wireless access is available in all common areas and rooms. Internet on campus is provided by Comcast at a speed of 100Mbps Down/100Mbps Up. Additional information is available by accessing UMBC's Division of of Information Technology (DoIT) homepage: www.umbc.edu/oit. Select "Purchasing a Computer" for "Student Purchases."
All washers and dryers are free to operate. Laundry facilities are available in all residential areas:
In the residence halls, laundry rooms are located in the basement or ground floor.
West Hill, Terrace, and Hillside laundry is available in the Apartment Community Center and in Elk.
Each apartment in Walker Avenue Apartments has its own washer and dryer.
Quick Laundry References
Dining & Vending Services
Dining & Meal Plans
Dining plans are designed to accommodate the diverse needs of our students. After signing up for a dining plan, use your student ID to access your dining plan at True Grit's, The Commons, the AOK. Library, the University Center, or the Administration building Coffee Shoppe. Students on any of our meal plans can take advantage of the meal exchange option. With this option, students can "trade" a meal at The Commons Market Street, The Commons Retriever Lounge, the University Center, and the AOK Library.
Flex plans allow you to use the allotted number of meals  any way you choose during the week. The week runs from Monday breakfast through Sunday late night. Flex plans allow you to eat more than one meal per meal period. For example, eating lunch at 11 a.m., and a second meal at 3:30 p.m. would place both meals in the lunch meal period. You can swap unused meals for cash allowance toward a la carte purchases at numerous locations around campus. Meal exchanges in the Outtakes C-Store at True Grit's will be limited to one meal per meal period.
For more information about meal plans visit https://www.dineoncampus.com/UMBC
Vending Machines
Vending machines are located in the lobby of each residence hall and in the laundry room of each apartment area. Machines are operated by an outside vendor through the Food Services office and include beverage and snack machines. For problems or refunds contact Campus Card and Mail Services located in the University Center (UC).
Ice
Ice is available free of charge for your personal use at your community lobby or laundry room. No large coolers please.
Mail and packages are delivered to the residential facilities daily, Monday through Friday. Please encourage people who send you important letters or packages to have them registered, certified, and/or insured. "C.O.D" letters or packages are not accepted at the desks.
Your mail should be addressed like the example below to avoid delays or loss:
Your Name
[Hall/Apartment Community Name], Room/Apartment #[Number]
UMBC, 1000 Hilltop Circle
Baltimore, Maryland 21250

For example:

John Smith
Erickson Hall, Room #105
UMBC, 1000 Hilltop Circle
Baltimore, Maryland 21250
All residents are assigned a mailbox and combination in their hall or apartment area. You will share your mailbox with your roommate(s). Hall residents can pick up mail in the residence hall lobby. Apartment residents can pick up mail at the Apartments Community Center.  Flat mail will be placed in the student's mailbox. Students can go to their community desk if they forget their mailbox combination.
Packages are held behind the desk. Students are notified by email when their package can be claimed.  Packages are held for 21 days.
During January, first class mail of the residents who live in the residence halls (not the continuous occupancy halls) is forwarded to the home address. During summer, only first class mail is sent to the permanent address on file. Bulk and third class mail is held until students return to campus. On-campus mail may be sent without a stamp to any location on the UMBC campus from the residence hall and the Apartment Community Center front desks or from the mailroom on the ground floor of the University Center. Simply mark your envelope "campus mail" and drop it off. Outgoing mail to off-campus locations requires adequate postage and can be left at the residence hall or Apartment Community Center desk for daily pick-up, Monday through Friday, or dropped into any U.S. mail box.
Cleaning & Facilities Services
Housekeeping
All housekeeping performed within the Office of Residential Life is facilitated by an independently contracted company.  The housekeepers are responsible for the following:
Routine cleaning in common and public spaces
Trash collection
Cleaning prior to opening and after closing
Emergency after-hours clean up
Other duties as assigned
If there is a housekeeping-related concern in any public area that requires immediate attention, it should be reported directly to the UMBC FXIT line 410-455-3948.
Residents are responsible for the cleanliness of individual rooms, suite common rooms,  bathrooms and kitchens in apartments. Health and safety inspections occur twice a semester.  UMBC housekeeping staff are responsible for study lounges, residence hall lobbies, community bathrooms, laundry rooms, hallways and stairwells.  Concerns regarding housekeeping issues should be directed to Residential Life Facilities at 410-455-3948.
Toilet Tissue
Toilet tissue is available to hall and apartment residents free of charge at all desks.
Vacuum Cleaners
In the residence communities vacuum cleaners may be checked out from your desk with a valid UMBC ID.
Maintenance Concerns
Students can report facilities concerns through our FXIT system.
Extermination Cycles
Residential Life employs a professional pest control company for regularly scheduled evaluations of the residential communities.  Extermination occurs every week. Residents are notified in advance before extermination begins.  Students with specific concerns should contact the FXIT line (5-3948) directly. Products used are water-based and non-toxic. Maintenance assistants also help regulate minor pest control problems.
Recycling and Green Initiatives
Residential Life works with other University offices and student groups to promote sustainability and good environmental stewardship. Some examples are:
Reduce: All of our facilities use energy efficient lighting. During recent renovations and construction, we have used energy efficient windows and HVAC systems.
Reuse: Instead of disposing in a landfill, much of our surplus furniture is processed through the Terrapin Trader to be resold to students, staff, and the general public. Surplus building materials like drywall, paint, kitchen appliances, etc. are donated to a local charity called The Loading Dock (www.loadingdock.org) that  the products to other local charities at greatly reduced rates. Landfill space and fees are saved and local charities receive needed supplies.
Recycle: Aluminum, glass, and plastic recycling is available in all residential communities. In the apartment there is a single source recycling container located next to the dumpsters. Paper recycling is available in some of the residence halls, usually in each floor lounge.
For more information about campus environmental issues and to get involved, please see Student for Environmental Awareness.