Residential Life is a large department with nearly 40 part-time and full-time professional staff members, more than 100 undergraduate paraprofessionals, and close to 120 undergraduate hourly staff members.  Our team works collaboratively to provide facilities, services, and programs that support the academic mission of the institution and enhance the quality of life for students living on campus. To learn more about our current team view our organizational chart.
Our Leadership Team is compromised of a Director, Associate Director and several Assistant Directors who oversee the various units that make-up Residential Life: Assignments & Operations, Conduct & Restorative Practices, Facilities, and Residential Education.
Our Community Directors are masters level, full-time professionals, who work and reside in each of our communities.  They serve as supervisors to Resident Assistants, advise community council, assist with student conduct, and residential hall operations. Community Directors serve on-call duty rotation to support evening and weekend concerns.
Graduate Assistants work part-time in either Facilities, Residential Education, the Central Office to help with Desk Operations, Maintenance Assistants, Restorative Practices, Conferences & Marketing, Curriculum Development, and Assessment.  Some are on a duty rotation.
Residents assistants are undergraduate paraprofessionals that work in-hall, hold programs for residential students, serve on a duty rotation and report to community directors.
Maintenance assistants are undergraduate paraprofessionals that complete minor maintenance repairs, serve on a duty rotation, and reports to a facilities coordinator.
Desk managers are undergraduate paraprofessional staff and desk assistants are hourly staff responsible for monitoring security, safety, and service for the residential facilities at the community desks.
Office assistants are hourly staff that function as receptionists in or out of the central office, assist with problem solving, and streamlining questions to appropriate staff and resources.
---
Employment Opportunities
Students and professionals who work for our department have opportunities to meet new people, stay involved, and gain valuable work and life experience. Together we strive to provide facilities, services, and programs that support the academic mission of the institution and enhance the quality of life for students that live on campus. Residential Life staff foster the personal, social, academic, and leadership development of resident students and prepare them to be active and responsible citizens within the UMBC community and beyond.
Professional Staff Positions
All Graduate Assistant positions for 2023-2024 have been filled. Please check back in Spring 2024 for graduate assistant opportunities for 2024-2025.
Student Staff Hourly Positions
We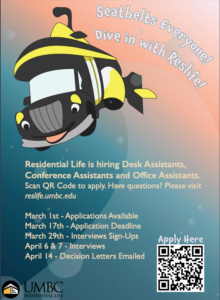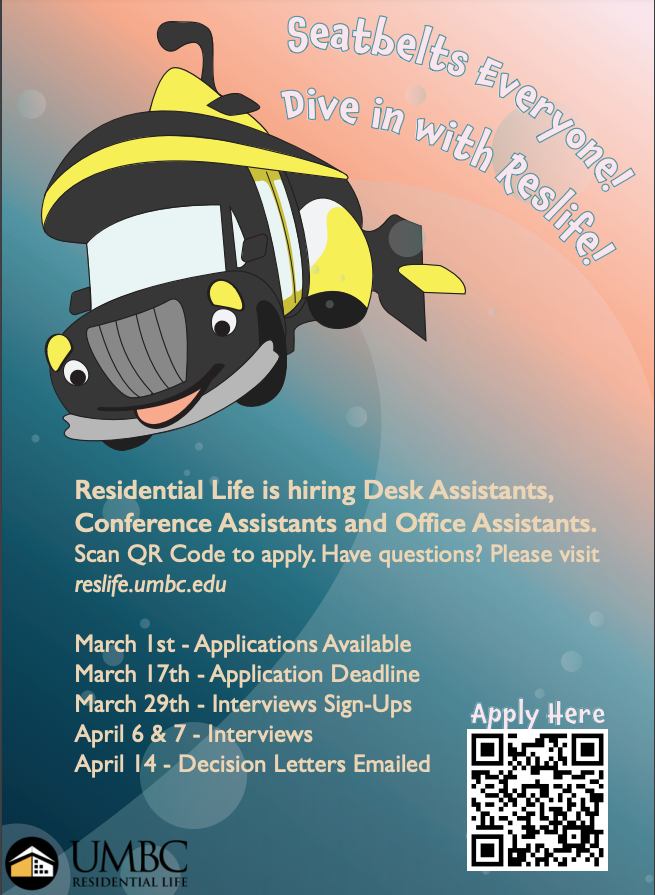 will begin accepting applications for our 2023-2024 Academic Year Desk & Office Assistant positions, as well as our Summer 2023 Conference Assistant position on March 1, 2023. We encourage you to review the timeline and various position descriptions before completing the application.
Application Timeline
March 1, 2023- Hourly Student Staff Application Available
March 17, 2023 at 11:59 p.m.- Hourly Student Application Deadline
March 29, 2023– Applicants sent information to sign-up for interviews
April 6 & 7, 2023- Interviews
April 13, 2023- Decision Letters E-mailed to Applicants
2023-2024 Academic Year Positions
Desk Assistant Job Description & Desk Assistant Information Packet
Office Assistant Job Description
Facilities Office Assistant Job Application
Summer 2023 Positions
Undergraduate Student Staff Paraprofessional Positions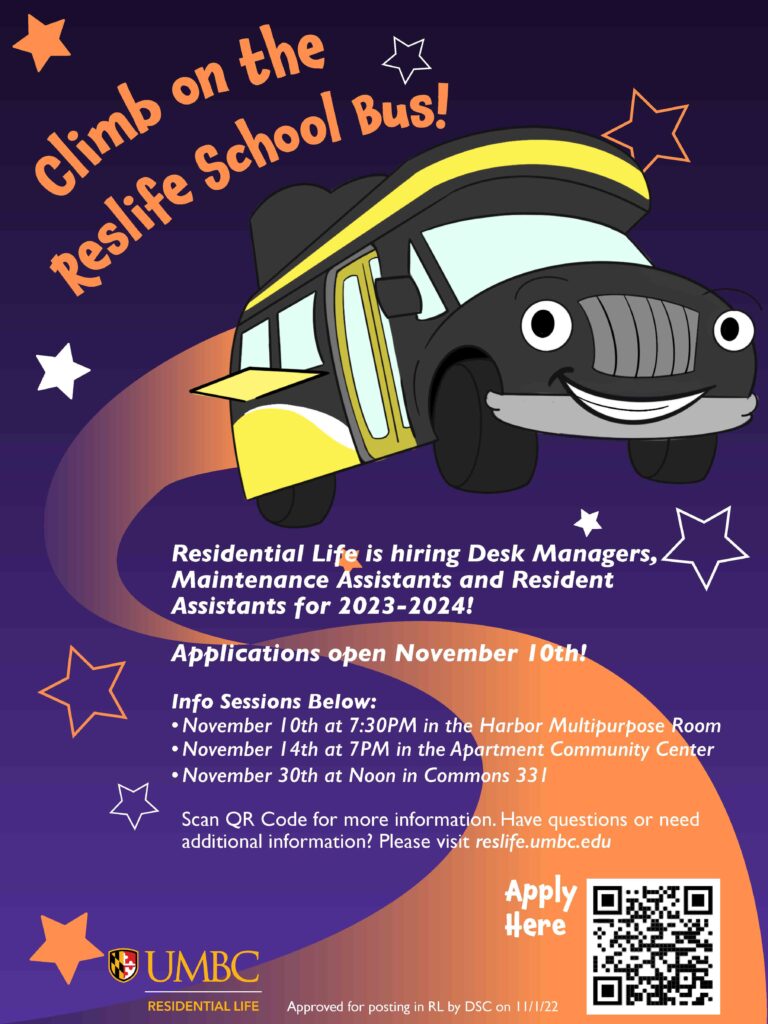 The deadline to submit an applications for the 2023-2024 academic year for our Desk Manager, Maintenance Assistant, and Resident Assistant positions has now closed.
Applicants can continue to view information packets about each position and about our selection process!
Desk Manager Information Packet
Maintenance Assistant Information Packet
---
Resources for Current Staff