Students will find a variety of housing options and accommodations within each of our halls, suites, and apartments.  Students are able to indicate their interest in various housing option on their housing application.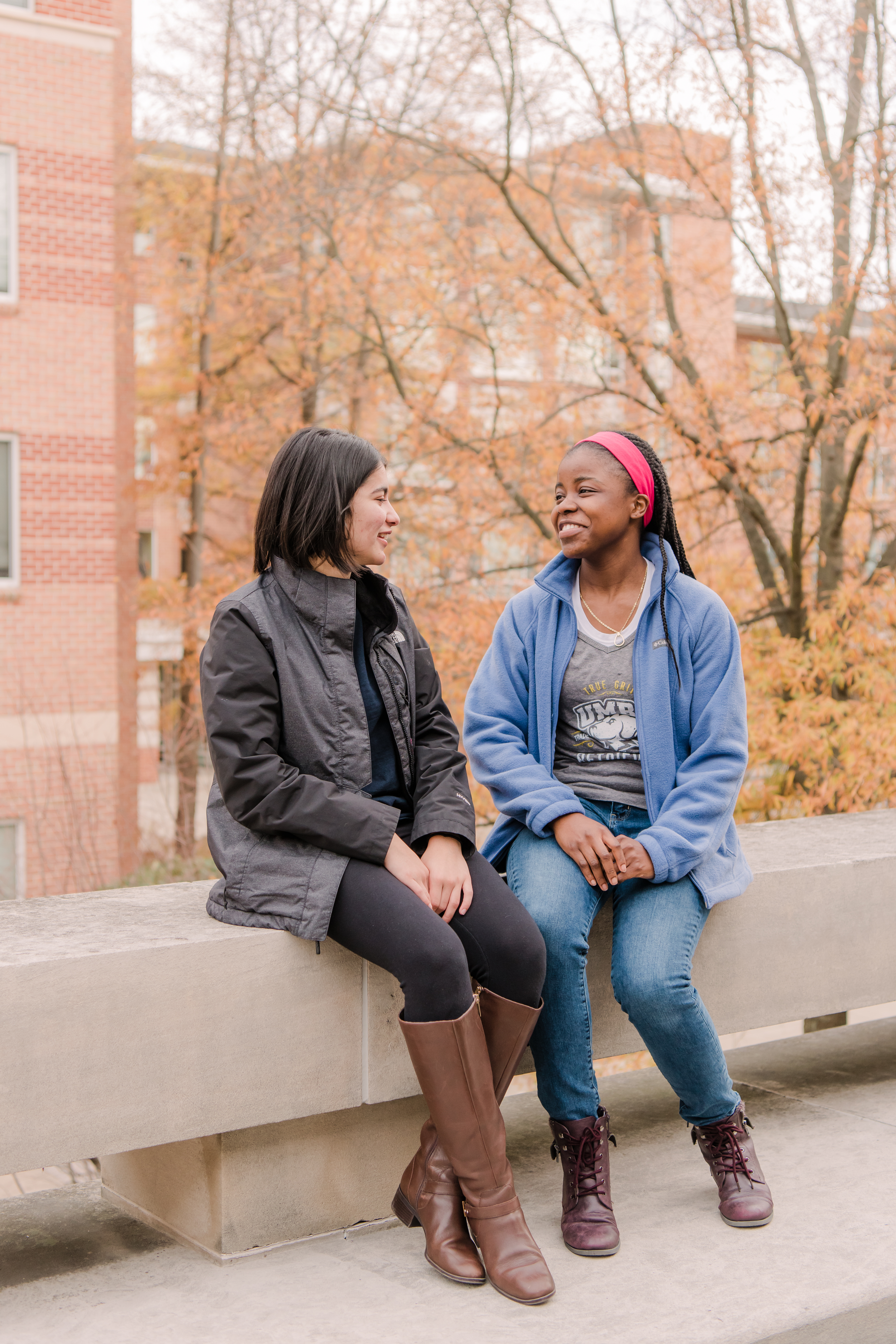 Residential Life is committed to working with all students to meet their housing needs in an environment that values diversity and promotes dignity of all people. Gender inclusive housing may be of interest to:
Members of the LGBTQIA+ community
Students who are exploring their gender identity
Students who are gender non-conforming
Students who feel more comfortable with a roommate of a different gender identity
Gender-Inclusive Housing is defined as a housing option in which two or more students share a multiple-occupancy apartment or suite, in mutual agreement, regardless of the students' sex, gender, gender identity, or gender expression.Gender-Inclusive Housing will be offered in predetermined units throughout campus (residence halls, suites, and apartments).
Students may apply to be considered for Gender Inclusive Housing in their housing application. Student housing applications will be reviewed by Residential Life staff in order to determine if a student is a good candidate for Gender-Inclusive Housing. Gender-Inclusive Housing gives students the option to reside with another person of a different gender or sex in order to provide a welcoming living environment. We hope that students in the process of discovering their gender identity, who do not wish to identify themselves by gender and/or sexual orientation and students who feel more comfortable with a roommate regardless of gender will be able to find a more compatible roommate and living situation within this community.
It is the student's choice to communicate with parents or family members about the decision to live in a Gender Inclusive Housing environment. Residential Life encourages this conversation between parents or family members and students about the housing choice so that they can be supportive of the student's decision. Students are encouraged to reach out to Residential Life staff if they need assistance in beginning these conversations with families.
Living-Learning Communities
Residential Life at UMBC offers a number of Living-Learning Communities (LLCs) that connect students with shared academic interests in culture, academics, or community service. Students within LLCs live together within a residential community and participate in academic and community programming especially designed for them. The ultimate goal of a LLC experience is to integrate learning from the classroom into the overall UMBC experience. LLCs are purposeful programs at UMBC that are designed to complement and extend classroom learning. These communities foster faculty and student interaction in a way that builds community and enhances both intellectual and personal growth of the residents.
9-Month Continuous Housing
Most of our communities close for semester breaks. If a student needs housing on campus during fall (Thanksgiving), winter, and spring breaks they should select need for 9-month housing on their housing application and/or select a room in a 9-month community during housing selection:
All apartment communities: Hillside, Terrace, West Hill and Walker Avenue apartments.
Potomac Hall
Harbor Hall: First Floor North, and all floors in the South & West Wings
Please note that students choosing Harbor Hall or Potomac Hall must purchase a minimum of a $50 flex meal plan for the January term as part of the housing license whether or not students plan to reside in housing for the month of January.
All communities have quiet hours, but quiet lifestyle floors enjoy extended quiet hours per the community agreement. Below are a list of Quiet Lifestyle floors and buildings:
Chesapeake Hall 3W
Erickson Hall 4S
Harbor Hall 4S
Patapsco Hall 0S
Potomac Hall 0S
Susquehanna Hall 3S
Apartments: Elk, Chincoteague, and Wye
Residential Life offers a wide variety of housing options to meet specific student needs.
The first step in the accommodation process is to work with the office of Student Disability Services, which reviews documentation and makes recommendations to Residential Life for housing accommodations. Students with documented disabilities that would like to request a housing accommodation based on a disability/disabling condition will need to register with the Office of Student Disability Services (SDS) through Accommodate (via the online SDS Registration Form) and provide documentation of their disability and limitations that would require a modification to housing.
Valerie Valentine at Student Disability Services: valerie@umbc.edu is the recommended contact for students seeking housing accommodations.
Students should also note their housing accommodation requests on the housing application submitted to Residential Life. For specific questions about the type of housing available please contact the Residential Life Assignments team at 410-455-2591 or email Amanda Scally at scallya@umbc.edu.
Emotional Support & Service Animals
UMBC  is committed to complying with federal, state and local laws regarding individuals with disabilities. In that regard, UMBC supports students with disabilities who have a service animal or who have an approved accommodation for an Emotional Support Animal (ESA) through Student Disability Services.
The first step in the accommodation process for those requesting an Emotional Support Animal in the Residential communities is to register with the Office of Student Disability Services (SDS).  SDS will review and maintain the confidential disability documentation and make recommendations to Residential Life for necessary housing accommodations.
Unlike an ESA, a student with a Service Dog does not need an accommodation approval through SDS.
However, any student seeking to have an Emotional Support Animal or Service Dog in a University Housing must register their animal and receive written permission to have the animal in the University Housing by Residential Life (see below).
Students should begin the Residential Life registration process at least two (2) weeks before housing selection or the housing licensing deadline.
The student must complete the following Residential Life registration steps before the animal may be permitted to be brought into the halls or apartments:
Meet with a Residential Life representative for an intake meeting and to review Procedural Guidelines and Agreement for Maintaining a Service Animal or Emotional Support Animal for Residential Students at the University of Maryland, Baltimore County;
Submit all required animal documentation to Residential Life; and
Receive a formal written permission from Residential Life.
Students who are found on-campus in possession of an animal without receiving formal permission from Residential Life may face student conduct action.
View the 2021-2022 Procedural Guidelines and Agreement for Maintaining an Emotional Support Animal For Residential Students at the University of Maryland, Baltimore County
Residential Life is committed to creating a welcoming and inclusive environment for all students.
For students seeking spaces to practice their faith privately, please note there are many options to do so outside of your room. As a result, it is extremely rare that we provide private rooms to students requesting religious accommodations. All of our communities have meeting rooms and lounges that you may use for your practice. Students can also explore the University spaces and services provided through the office for Initiatives for Identity, Inclusion & Belonging.
Additionally, it should be noted that Residential Life does not assign roommates or suitemates based on religious beliefs. If you are seeking to room with someone of the same faith, we encourage you to identify a roommate and request them as part of the roommate request process. UMBC has a number of faith based organizations that serve as a resource to connect students with shared religious and spiritual identities.
Residential students living in halls and suites are required to have meal plan. UMBC Dining Services provides a variety of dining options for students with religious based dietary restrictions.  Students are encouraged to work directly with Dining Services to explore options that will meet their particular needs.
Students who anticipate needing religious accommodations for housing are encouraged to indicate their need on their housing application.
Examples of religious accommodations may include, but are not limited to:
Modified locks on doors; non-electronic lock
Ability to bring a mini-fridge for separation of food
Housing location with close proximity to place of worship
Semi-private bathroom based on religious or cultural beliefs
A request for a religious accommodation for housing must include a description of the accommodation you are requesting and the reason you need an accommodation.
For questions or to discuss your particular needs please feel free to contact us.