Residential Life provides students with lots of opportunity to get engaged and connected! From student employment opportunities, to leadership, and advocacy.  We encourage students to check this page regularly for updates and information about our various engagement opportunities.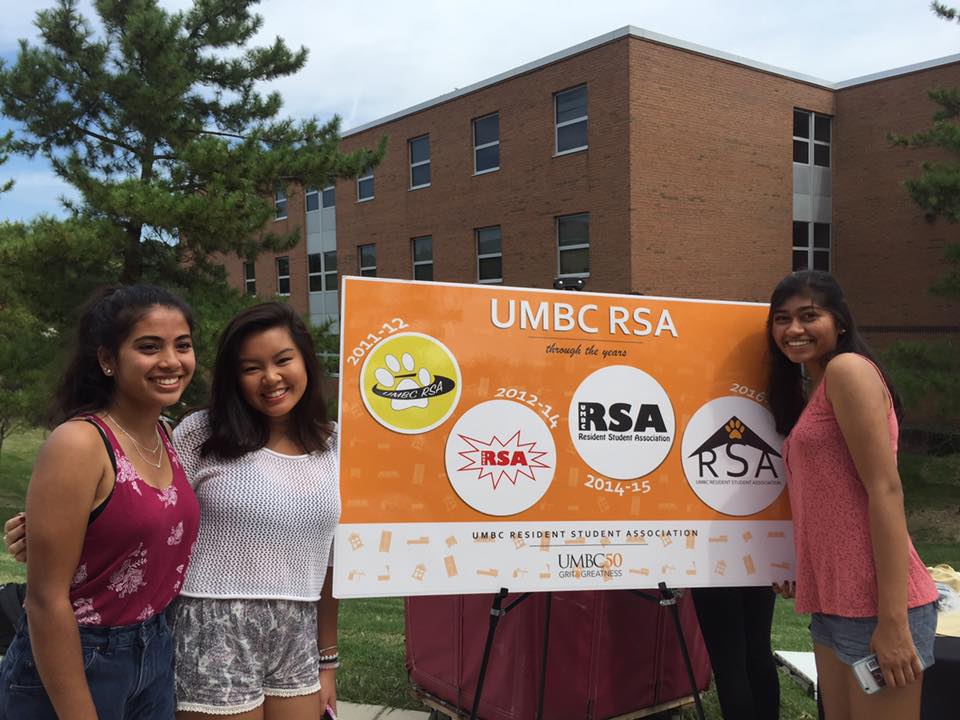 ---
Student Employment
One way to get involved on campus, is to work at UMBC. There are a number of student employment opportunities in Residential Life. For more information and to see current position openings, please visit our employment page.
Residents assistants are undergraduate paraprofessionals that work in-hall, hold programs for residential students, serve on a duty rotation and report to community directors.
Maintenance assistants are undergraduate paraprofessionals that complete minor maintenance repairs, serve on a duty rotation, and reports to a facilities coordinator.
Desk managers are undergraduate paraprofessional staff and desk assistants (receptionists) are hourly staff responsible for monitoring security, safety, and service for the residential facilities at the community desks.
Office assistants are undergraduate hourly staff that function as receptionists in or out of the central office, assist with problem solving, and streamlining questions to appropriate staff and resources.
Graduate Assistants work part-time in either Facilities, Residential Education, the Central Office to help with Desk Operations, Maintenance Assistants, Restorative Practices, Conferences & Marketing, Curriculum Development, and Assessment.
---
Residential Student Association & Community Council
Resident Student Association is a student-run, representative organization that advocates for the residential population by encouraging students to reach their full potential as scholars and leaders by working alongside one another to  establish and maintain a safe and supportive community.  Please visit the RSA website to learn more.
---
National Residence Hall Honorary
The UMBC Chapter of the National Residence Hall Honorary (NRHH) is a prestigious organization comprised of the top 1% of leaders on UMBC's residential campus. Our members are inducted based on their exceptional contributions to the UMBC campus and the surrounding community. NRHH also runs a number of recognition programs in appreciation of outstanding residents and organizations, including the nationally recognized Of The Month (OTM) program. Please visit the NRHH website to learn more.
---
Peer Review Council
Vision Statement
The Peer Review Council provides peer-to-peer accountability for all residential students at UMBC, fosters responsible citizens and a positive community modeling restorative behavior, and offers opportunities for personal development and reflection.
Mission Statement
The Peer Review Council upholds the Residential Life mission and vision to co-create exceptional and innovative living learning environments for our campus community by upholding the following core values:
Core Values
Citizenship: Residential students are members of a shared community; therefore, it is their responsibility to make positive contributions by respecting the principles.
Integrity: Every person is responsible for their actions. By being honest, trustworthy, and sincere, the residential community will be stronger.
Respect: Care and concern for ourselves and the residential community will foster a culture of acceptance, mutual understanding, and freedom.
Civility: Every residential student deserves dignity. Demonstrating courtesy and compassion for our diverse community members keeps our community healthy and promotes a sense of belonging for all. .
Living and Learning: Every moment offers an opportunity to learn and share our learning experiences with others.
Member Responsibilities
Protect the rights and responsibilities of students living in the UMBC residential communities.
Uphold the Residential Life policies, rules, and regulations as outlined in the Rights and Responsibilities Guide.
Hold each member of the community accountable for their actions through a restorative adjudication process.
Ensure that each student receives a fair and impartial hearing.
Dedicate approximately one hour a week to attend hearings and meetings with Council advisors.
Arrive early to hearings in order to prep for cases.
Maintain strict confidentiality concerning all parties in Council hearings.
Be familiar with Residential Life rights and responsibilities.
Be professional and responsible members by notifying advisors in advance when you cannot attend hearings, dressing professionally, and having a friendly demeanor.
Minimum Qualifications
Must be a current residential student at UMBC.
Must maintain a minimum 2.5 cumulative grade point average.
Must be in good academic and judicial standing with UMBC and maintain this status throughout the tenure as a member.
Must be able to commit at least one hour a week during the semester in addition to training.
---
Student-Led Initiatives
Student – Led Initiatives are an opportunity for YOU to host a program for the community! You can do this by Applying for a Student- Led Initiative Programming Grant! All it takes is 3 easy steps:
Think of an event for your Residential Community!
Receive funding from ResLife to execute your program!
---
Collaborative Feedback (Focus Groups)
Please check back in the Spring Semester for upcoming Focus Group volunteer opportunities.
Why should you participate in providing feedback to Residential Life?
Assessment in Residential Life allows the department to make informed changes and decisions based on resident student feedback. 
Over the past few years, UMBC has made important changes.Changes included creating Late Night hours in TrueGrits and providing complimentary laundry to all residents, all which came from YOUR feedback.
Check out this flyer (Welcome Back!) which outlined some changes made based on student feedback.
Keep checking this page for ways to participate in surveys or focus groups.
How does Residential Life use the information gained from feedback?
Any feedback Residential Life receives from an assessment is analyzed, compared, and then presented to various stakeholders within the department and the Division of Student Affairs.
Changes are made accordingly based on feedback.
What types of assessments does Residential Life complete?
Focus Groups: A small group of residents are selected to come into the Residential Life office to answer a series of questions that could be about residential experience, satisfaction, or housing procedures. The goal is to gain as much detailed information as we can from a small group of residents that can make a BIG impact.

Attendees are given a Thank You gift for their time and participation.

Surveys: The Residential Experience Survey is administered through email to the entire residential community. The 2022 will launch later this year.  The goal is to reach as many residents as we can for feedback–in 2019 we attained a 71.4% response rate for our Residential Experience Check-Up, the highest to date.