For the latest information on UMBC's response to COVID-19, including campus wide updates and additional student support resources, please visit covid19.umbc.edu.
Safety, health, and well-being are top priorities in our on-campus residence communities and these priorities guide our decision making for fall semester. This includes educating students regarding campus expectations for social distancing, personal protective equipment (face coverings, sanitizer, etc.), and practices to support student health. Disinfectant as well as additional hand sanitizing stations will be readily available throughout the residential communities. Additionally, quarantine and isolation protocols are being developed to keep students and communities safe, in line with CDC and health professional guidelines.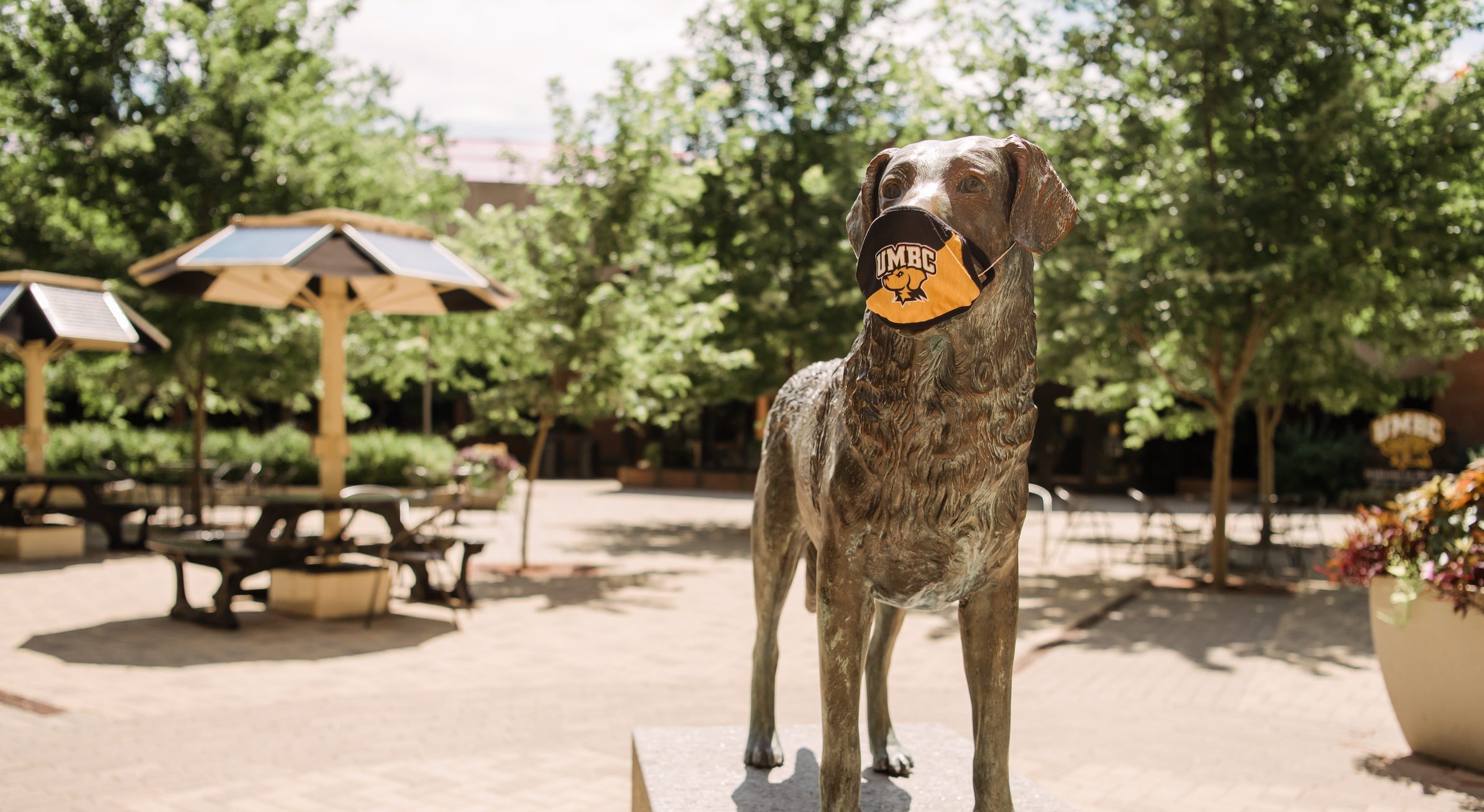 Below are a list of Frequently asked questions about Residential Life's response to COVID-19, additional information can be found on our archived page and the UMBC COVID website.
Are there plans to increase cleaning in public areas within the residence halls?
Yes, staff will increase the cleaning frequency of community restrooms, laundry rooms and high touch point areas such as elevator buttons, water fountains, and door handles. Additionally, spray bottles with disinfectant and paper towels will be available for student use in common areas to assist with overall sanitation.
What actions can students take to help keep themselves and their fellow community members safe and healthy this fall?
If you are sick, stay home and do not go to class or work.
Wear a face covering at all times indoors and outdoors when other people are nearby.
Keep appropriate distance between you and others.
Wash your hands frequently or use hand sanitizer if soap and water are not available.
Wipe down shared surfaces in your bathroom and shared living spaces.
How many students live in the residence halls?
Traditionally 4,000 students live on campus in a combination of triple, double, and single suites and apartments in Residential Life and Walker Avenue Apartments. Due to the great care and responsibility our students have shown, efficient testing processes, and the downward trend in COVID positivity rates, Residential Life plans to re-open our residential communities at increased occupancy for the 2021-22 academic year.
As a result, most Residential Life bedrooms will return to standard capacity for the 2021-2022 academic year:
Standard single bedrooms will house 1 student.
Standard double (2-person) bedrooms will house 2 students.
Standard Triple and Quad bedrooms will be converted to double occupancy bedrooms, and billed at the double room rate.
Students may share a bathroom with up to 3 other students.
Residential Life plans to convert a limited number of double occupancy bedrooms (Potomac Hall's South Wing) to single occupancy bedrooms, at an increased room rate. This will allow students to have their own room and share a bathroom with no more than 1 other person.
How will residence hall rooms be set up?
All rooms will remain set up as normal. For instance, a traditional shared bedroom will still have multiple sets of furniture even though only one resident will be assigned to the space. For images of room layouts, please visit reslife.umbc.edu/communities/.
Are the apartments reduced as well?
Effective Fall 2021, all apartments will be at full capacity.
What is the University doing to prepare in the event someone tests positive for COVID-19?
Our goal is for all students, faculty, and staff to stay safe and well on campus this fall. For their part, students should follow good personal hygiene practices, make healthy choices, and follow the campus's guidelines regarding hand washing, physical distancing, limiting large group gatherings, etc. Public health experts tell us that it is likely that we will have cases of COVID-19 on campus this fall. University experts, health professionals, faculty, and staff are working through extensive plans. The University will maintain a number of quarantine and isolation residential spaces available should an on-campus resident need to temporarily relocate during a quarantine or isolation period. Food delivery and academic accommodations are also being planned. We urge every student to have a plan for what they will do if they are exposed or become ill with COVID-19.