Student Employment Opportunities
2021-2022 Positions
Hourly Positions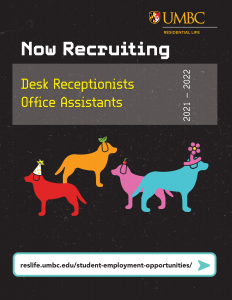 We are currently accepting applications for the following hourly positions for 2021-2022.  Information about each position can be found below.  The application deadline is Friday, March 26, 2021.  Click here to apply for these positions today!
Residential Peer Health Ambassador
This position is a newly-created peer health initiative designed to provide residential students living on campus at UMBC with guidance around healthy behaviors and social norms related to COVID-19.  For information please refer to the job posting.
Graduate Assistant Positions
We are not currently accepting applications for any graduate assistant positions for 2021-2022. Please check back later.
Paraprofes
sional Positions
The deadline for accepting applications for our paraprofessional positions – Desk Manager, Maintenance Assistant, and Resident Assistant was on January 15, 2020.  We are no longer accepting applications for these positions.
The information packets below contain specific information about our three paraprofessional positions as well as about the application and interview process. Packets were updated on December 16th so be sure to review the updates about the selection timeline.
Desk Manager Information Packet
Maintenance Assistant Information Packet
Resident Assistant Information Packet
If you have additional questions, please contact reslifeselection@umbc.edu.