Restorative Practices Workshops and Trainings
In the news:
2020:
The University of Maryland, Baltimore County is using restorative practices to address tension and create space for relationship and reconnection after the election. From David Hoffman, Director for UMBC's Center for Civic Life and Democracy:
This unusually divisive election season coincides with a pandemic, economic uncertainty, new reminders of the prevalence and legacies of institutional racism, and violence and unrest around the world. The consequences of the election outcomes will affect each of us differently, in part because we are not equally vulnerable to the repercussions of public officials' decisions and actions. These differences can weigh heavily on us and easily pull us apart. 
November 4, noon – 1 p.m.: After the Election: A Community Gathering, to reflect on the challenging months leading up to the 2020 election, discuss the status of the election results, and envision the road ahead. RSVP here.
In addition, a number of UMBC departments and organizations will host Together Beyond November events in the coming days. These will be small group conversations facilitated by UMBC community members to support participants in renewing connections, reflecting on the election and its aftermath, and helping each other through challenging times. Keep an eye out for details and invitations.
On September 17, 2020, UMBC co-hosted the second bi-annual meeting for restorative practitioners in student affairs in Maryland, with the University of Maryland College Park and the University of Maryland, Baltimore. The theme for this year's virtual meeting was Community Building and Racial Healing. Over 100 participants logged on to hear from panelists using restorative practices in their work to address systemic racism, and tend to community.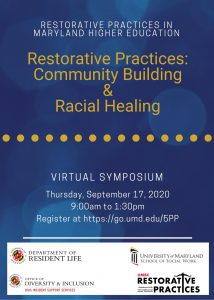 2019:
UMBC hosted the first bi-annual meeting for restorative practitioners in student affairs in Maryland. With support from the International Institute for Restorative Practices (IIRP), the Circle for Restorative Initiatives (CRI), Maryland, the Maryland College Student Personnel Administration (MCPA)  and the Association for Student Conduct Administrators (ASCA). More than 40 participants from nine institutions in MD, PA and DC met to discuss, network and learn around issues like how restorative practices advances campus and community wellbeing and the value of restorative practices in student affairs and higher education. Stay tuned for our Spring meeting in April at the University of Maryland in College Park! Questions: restorativepractices@umbc.edu
Check out this recent Retriever article on the community effort and important partnerships behind Restorative Practices at UMBC!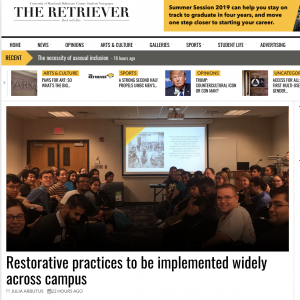 UMBC Residential Life has been invited to showcase our use of Restorative Practices in Residential Education at ACPA's Institute for the Curricular Approach (ICA) in Anaheim, CA in October!

Events & 
Workshops:
Restorative Practices 101
This one hour session is intended to be a primer on Restorative Practices. During the session facilitators will highlight how Restorative Practices has been implemented at UMBC, and will give a brief overview of the 2-day Restorative Practices workshops offered 3-4 times a year. 
The session can be modified to 90 minutes to include some skill building on basic restorative tools such as using affective statements and questions.
To request this session contact restorativepractices@umbc.edu



Building Campus Community (2 Days)
Our next Building Campus Community workshop will be offered in the summer 2020.
Please click the link below to be notified about upcoming dates!
To register or receive emails click here
In order to be a Restorative Practices Facilitator at UMBC, volunteers must attend a 2 day workshop that is offered, at a minimum, twice a year – once in the fall, and once in the spring. The workshops are held on the UMBC Campus, and typically begin at 9am and end at 4:30pm.
The training includes an orientation to the restorative philosophy at UMBC, facilitation skills and applications for community building and conflict resolution. We also discuss the goals of RP at UMBC. Follow up workshops are provided throughout the semester with a focus on shared learning and application of RP skills.  Throughout UMBC uses a co-facilitation model. Facilitators in training "shadow" more experienced facilitators by participating in the logistics of the training, and participating in conferences or circles as community members.
Training Topics:
Community Circles: Participants will actively engage in a community circles and delve into social-emotional community building procedures.
Restorative facilitation techniques: Experience a session integrating restorative techniques into your facilitation skills and practices. Expand your own practice and share with others.
Standards Setting Role play: Observe and participate in roleplays to create community standards. These have been used in many contexts including organization vision, mission and goal building, classroom management and conflict resolution.
Connecting with your community members: Learn a few lessons you can implement in your classroom to help create a positive classroom environment.
Day One: Developing a Restorative Worldview
This workshop will challenge you to think differently about how you build relationships, build community with groups and how we respond to conflict and incidents of harm. We will wrestle with the notions of discipline, conflict and justice through lecture, discussion, activities and role play-looking closely at what our current systems are accomplishing and if the real needs of victims, offenders and communities are being met. Ultimately, we will emerge from day one of the workshop with ideas of how we can use restorative practices as a way of thinking about how we exist in community with others.
Day Two: Using Restorative Tools
This workshop focuses on practical skills to setup and host a circle, how to use different types of circles and concrete tools and techniques to support engagement from participants in the circle process. The workshop uses adult education and experiential learning techniques, as well as activities and discussion.
Circles can be used for:
Establishing agreements on how community members will interact and engage with each other;
Creating a sense of shared responsibility for maintaining agreements inside and outside of the classroom;
Offering a way to address issues and have an open and honest discussion of these issues;
Providing a way to address and deal with conflict.
To register for a workshop click here.
For more information on workshops and restorative practices at UMBC contact us at restorativepractices@umbc.edu