Welcome to West Hill Apartments!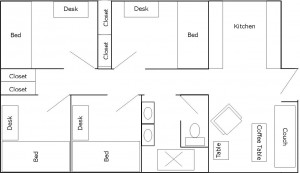 Community Information:
Community Director, Tia Howard: 410-455-1601
Assistant Community Director, VACANT: 410-455-1401
Community Desk: 443-612-7100
Community Desk Operation Hours: 24/7 during the academic year
Occupancy: 284
Location (4C): UMBC Campus Map
Fun Facts:
Abbreviation: WSH
Mascot: Pink Flamingo
Color: Pink
Slogan: Pink Pride, World Wide
Features:
Area Desk, mailboxes, and laundry are located in the Community Center. Apartment kitchen includes refrigerator, stove and oven.