Living Learning Communities
Residential Life feels the best way to invite and invigorate you to succeed in your personal, professional, and academic life is to develop a sense of community.  We nurture your transition by welcoming you to live in one of our Living-Learning Communities (LLCs). LLCs connect students with shared interests in culture, academics, and/or community service.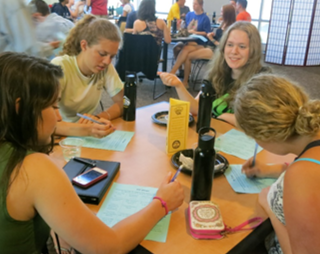 LLCs are programs that involve undergraduate students who live together in a residential community and participate in academic and extracurricular programming especially designed for them.  LLCs are co-sponsored by Residential Life, the Division of Undergraduate Academic Affairs, and various academic departments and programs.
Why should I Join an LLC?
Live, study, and go to class with your friends.
Engage with faculty members and professors who take a special interest in YOUR focus.
Utilize and take advantage of the community resources to engage in your UMBC experience
Students involved in LLCs at UMBC self-report the following:

Being more satisfied with their overall academic experience on campus.*
Being more engaged and involved on campus.*
Interacting with more faculty and staff members.*
Having a great understanding of diversity and multiculturalism.*
*This data was compiled through the annual Educational Benchmarking Incorporated (EBI) Resident Satisfaction Survey in November and December of 2014.
General Questions about Living-Learning Communities can be directed to Wendy Crowe, at 410-455-3770 or crowe@umbc.edu
Faculty and Staff interested in learning more about LLCs should click here.