Dr. Bridgit Starkey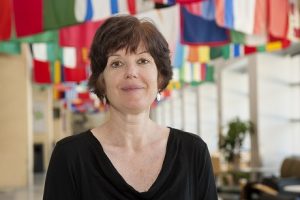 Contact Information:
Office: FAB 551, bstarkely@umbc.edu, 410-455-2182
Academic Program/Department:
Associate Director, Global Studies Program + Senior Lecturer, Political Science Department
When did you start working at UMBC?
I started working here in 2007
Degree/Academic Program/Institution History:
BA SUNY Cortland, NY 1984 (Political Science and French)
MA 1986 University of Wyoming (International Studies)
PhD 1991 University of Maryland (Political Science)
Academic and Research Interests:
Foreign Policy
International Negotiation
Interactive Learning
Other Hobbies and Areas of Interest:
What is your favorite class to teach?  Why? I enjoy my POLI 486: International Relations of the Middle East class because I love to introduce students to new ways of thinking about this region of the world and get them thinking about cooperation and not just conflict when they think of the Middle East.
What makes you proud to be a Retriever? I love that at UMBC the success of each individual student is an actual institutional goal. I have never before worked at a university where that has been an articulated goal that administrators really support on a daily basis.
What advice would you share with student about being successful at UMBC? You need to attend your classes all of the time. You need to do the assigned reading.  You should enjoy college and have fun, in addition to studying!